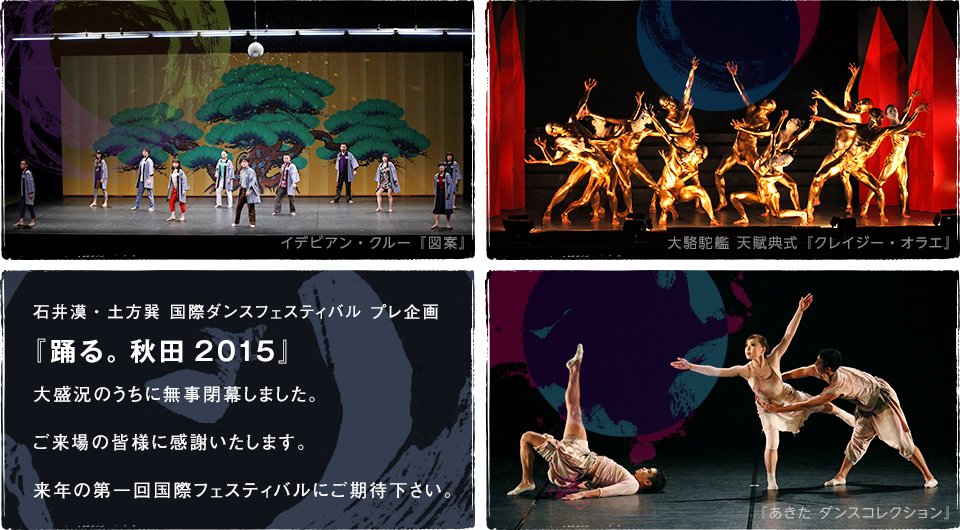 Special Invited Performance part 1:
"Zuan (Design)" by Idevian crew
Venue
Akita-city culturehall(Bighall)
Admission fee, etc.
2,500yen(The day 2,800yen)「Amount of all performances ticket 5,000yen」
"Zuan", which premiered at the Setagaya Public Theater in October 2014 is based on a specific theme and set if ideas; "How to play the space of the theater" without having to resort to things such as special decorations and simply enjoying the space itself. Therefore it is suggested to be a more ambitious work with subtle changes of movement and lighting of the human (dancer) which would then mean there was a larger emphasis on the small changes of dancer's movement and the lighting. There is no call for stories and meaning.

The characteristic movement and the impressive composition which often appears in their work is boldly remixed. It is like watching an omnibus drama with good-tempo-staging and innovative dance which would captivate and overwhelm the audience. This work which at last will appear in Akita, has won the highest praise from not only the dance field but other artists from other areas, and it can also be said to be the origin of Idevian crew!

[Staff/Cast]
Choreography and directed by: Shigehiro Ide
Cast: Mineko Saito / Nagisa Sugao / Ai Kaneko / Rumiko Nakano / Tomoko Yoda / Ayako Fukushima / Tatsuya Nakamura / Tatsuya Koyama / Teppen Matsunoki / Yu Harada / Shigehiro Ide

About idevian crew
It is created by a singular genius of the contemporary dance world, choreographer Shigehiro Ide in 1991. Since naming as "Idevian" in 1995, they have succeeded broadly such as in Germany, France, the United Kingdom, the United States, and Canada, as well as in Japan. The unique view of the world based on its own interpretation, has attracted attention as an individualistic presence among the Japanese contemporary dance world. It also actively involved in collaboration with the different fields artists to creative jointly.
idevian crew HP:http://www.idevian.com/
Special Invited Performance part 2:
"Temputenshiki; Crazy Orae" by Dairakudakan
Date of event
2015/11/13(fri)・11/14(sat)
Opening hours
13(fri)Open 18:30(Curtain 18:00)/14(sat)Open 14:00(Curtain 13:30)
Venue
Akita-city culturehall(Smallhall)
Admission fee, etc.
2,500yen(The day 2,800yen)「Amount of all performances ticket 5,000yen」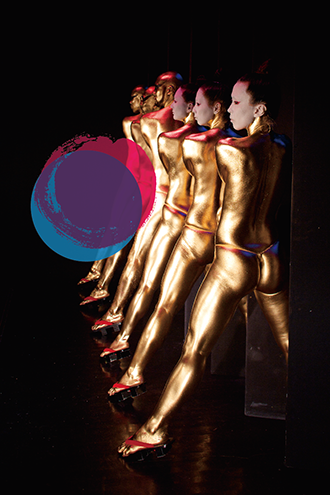 Photo by:Junichi Matsuda

"Crazy Orae" produced a great sensation at the 29th National Cultural Festival in Akita, in 2014. The original version of this work "Crazy Camel" was for the Japan Cultural Institute in Paris opening 15 anniversary and the premiere was October 2012. It has been staged in Montpellier Dance Festival 2013, in Normandy during the autumn Festival 2013, and in Poitiers, France in May this year and gained good reputations. A version specific to Akita was then created and titled "Crazy Orae". This work "Gold powder Show" was originally born as a cabaret show dance which incorporated painting whole bodies with the gold dust and looking like moving sculptures. Akaji Maro created a new genre of Butoh known as the "Gold dust dance" by integrating Butoh with gold and white-powder painted faces and bodies.

[Staff/Cast]]
Choreography and directed by: Akaji Maro
Cast: Takuya Muramatsu / Emiko Agatsuma / Kohei Wakaba / Atsushi Matsuda / Satoshi Shioya / Baraba Okuyama / Daiichiro Yuyama / Yoshihiro Kon / Masaya Miyamoto / Akiko Takakuwa / Naomi Muku / Azusa Fujimoto / Yang Jongye / Oran Ito / Yuna Saimon
Costume: Kyoko Domoto
Stage director: Tsubasa Tanaka
Lighting: Tadayuki Mori (balance, inc.DESIGN)
Sound: Masayuki Oikawa (SHOW-YA projecT)
Production: Ryo Yamamoto
Producer: Yoko Niihune

About Dairakudakan
Dairakudakan was founded by Akaji Maro who had a great influence and impact to the dance seane in 1972, and it marks the 43th anniversary this year. They named their dance style as Tenputenshiki; being born in this world is what the great talent is. Collected and rebuilt forgotten gesture and hand gesture, then it has already staged more than 60 works. In 1982, for the first time as a Butoh company, performed concerts in France and the United States giving a vivid impact, and widely penetrated the "Butoh" besides. Thus, always focus raising next generation with Akaji Maro's method ; Each one has Each style. Currently it has played a variety of unit works at domestic and abroad being based in the Kichijoji-studio.

Dairakudakan HP:http://www.dairakudakan.com/
"Akita Dance Collection"
by local-born dancers active nationally with local dance companies
Venue
Akita-city culturehall(Bighall)
Admission fee, etc.
1,000yen(The day 1,300yen)「Amount of all performances ticket 5,000yen」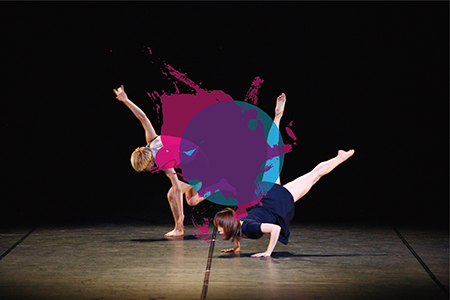 The performances of the following: the grand prize winners of "Akita national dance festival Modern Dance Competition", local-born dancers active nationally, local dance companies. It will appeal the presence of dance kingdom Akita.

[Program 1]
The Local Dance Companies' performance by Nobuko Okumura Ballet Institute / Izumi
Kawamura Dance Company / Ayuko Tanahashi Ballet School.
[Program2]
"Akita National Dance Festival" Grand Prix winner's performance, and others.
Cast: Kasumi Adachi / Ayumi Ariake / Ayumi Ito / Yumi Ito / Manami Ito / Aoi Kagaya / Kaori Kagaya / Akishi Kato / Mana Kawamura / Nao Kishino / Fuka Tamoto / Haruka Narumi / Ayaka Habata / Natsuko Fuji / Junko Fujii / Kotaro Mizushima / Himiko Yanata / Mayuko Yonezawa / Yu Watanabe, and others.

About Akita national dance festival Modern Dance Competition.
Akita National Dance Festival modern dance contest is the contest only for modern dance, started at the same time as the Akita Prefectural Art Dance Association was established in 1982. Akita is the place noted in connection with the pioneer dancers of modern dance to represent Japan. It gathers nationwide rookie dancers on the place to create an unique and free stage, and it was the 34th time last year. This dance festival has made a lot of dancers expand overseas to be active broadly. It will be held on December 12, 13 this year.