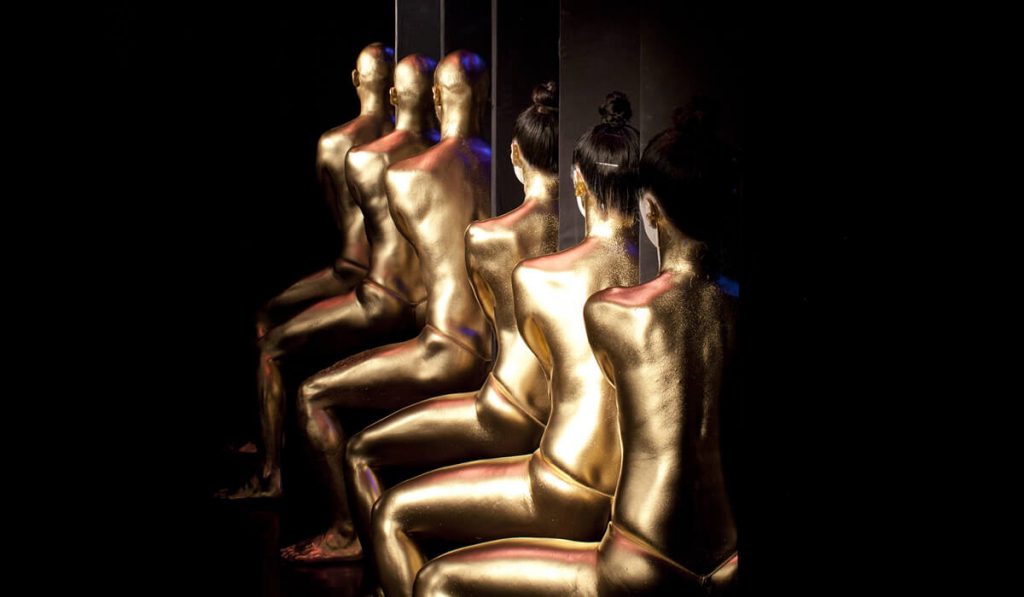 Photo: Junichi Matsuda
Special Outdoor Performance,
"Gold Powder Show by Dairakudakan"
Attracting the white-hot attention nationwide! The super deluxe edition is coming to Akita.
Date of event
Saturday, September 8, 2018
Opening hours
5:00 PM and 7:00 PM
Venue
5:00 PM at Akita City Omachi Event Square
7:00 PM at Akita City Area Nakaichichi, Nakaichi Square
Admission
Free (tips are welcome!)
Choreographer/
Director
Emiko Agatsuma
Performed by
Atsushi Matsuda, Tomoshi Shioya, Akiko Takakuwa, Azusa Fujimoto, Oran Ito, Manami Furuta
Special tie-up: The 7th "Akita-Bar Street"
Performance History of Dairakudakan in Akita Prefecture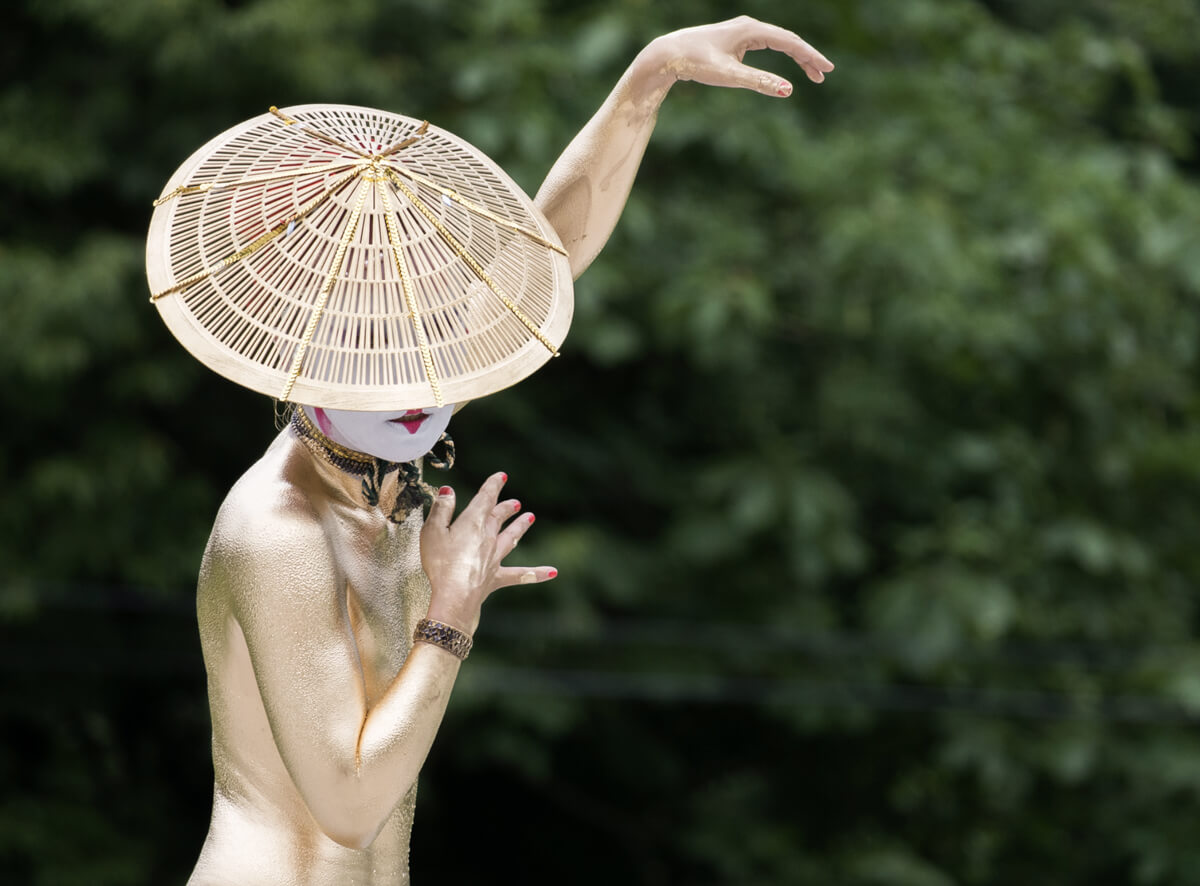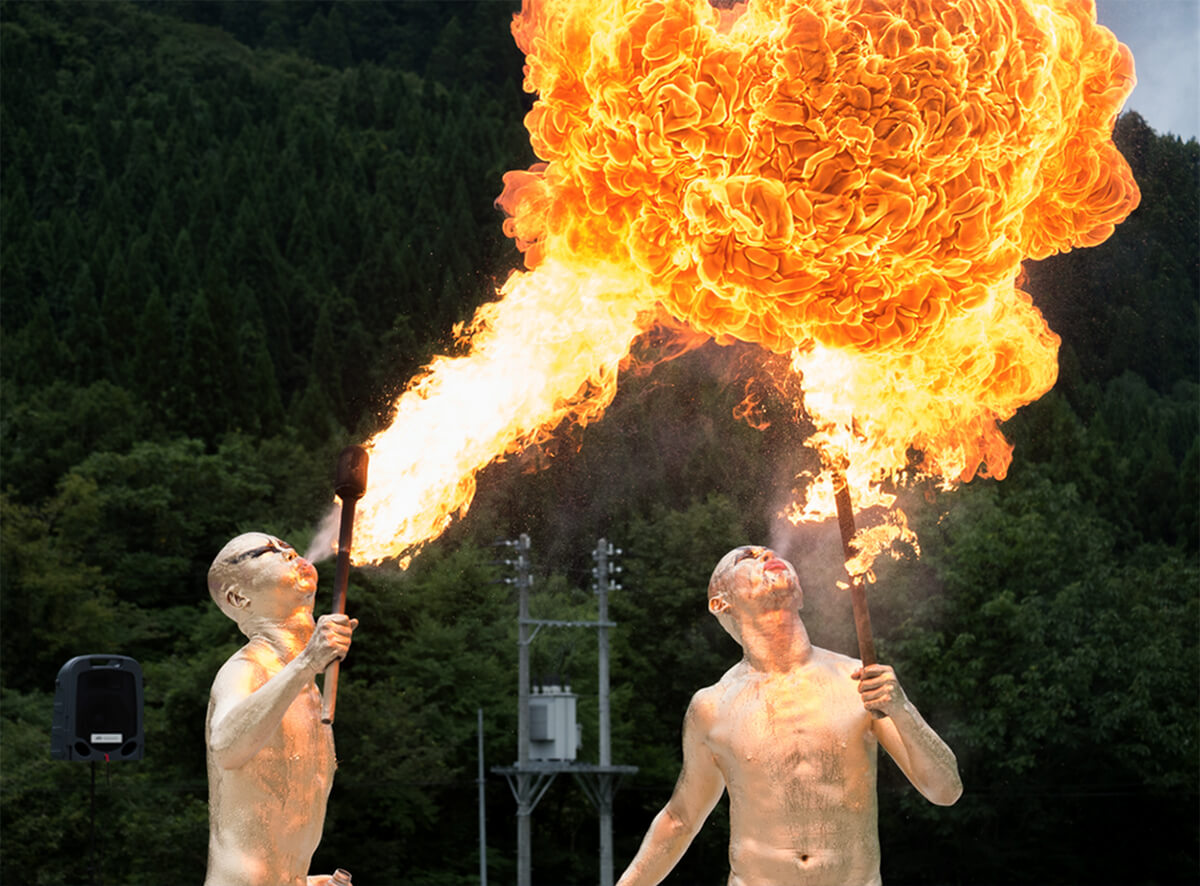 2001

Danced at the opening ceremony of Akita World Games

2013

Performed the Gold Powder Show at the "KAMIKOANI Project Akita" in Kamikoani Village, Akita Prefecture

2013

Performed the Gold Powder Show at "29th National Culture Festa, Akita 2014" pre-event

2014

Performed "Ash Man" at the "Buyo/Butoh Dance Festival", held as a part of the "29th National Culture Festa, Akita 2014"

2015

Performed "Crazy Orae" at "Odoru Akita" vol. 1

2015

Performed the Gold Powder Show at the "KAMIKOANI Project Akita" in Kamikoani Village, Akita Prefecture

2016

Performed "Space Insect" at "Odoru Akita" vol. 2
Profile of Emiko Agatsuma
Born in Miyagi Prefecture
1999

Joined Dairakudakan. Studied under Akaji Maro

2007

Choreographed/directed "Tentai-no-Zoo"

2010

Choreographed/directed "Bon noh Kakeru"

2014

Choreographed/directed "Song of the Flesh". Won the 46th Rookie of the Year Award from the Butoh Dance Critic Association

2015

Performed "Song of the Flesh" in Paris

2017

Choreographed/directed "Dancing PLANETS"

2018

Served as the instructor at the Butoh Dance Workshop sponsored by Shinehouse Theater, Taiwan. Being active even outside of Dairakudakan, Agatsuma has participated in "Gegege no Ge" (written/directed by Eri Watanabe) of Gekidan Sanjyumaru and "Soft Kagura" (directed by Kunio Sugihara) as the choreographer. Also performed for theatrical dramas, movies and TV shows including the "Windy Cloister" (written/directed by Eri Watanabe) and "Knights in the God-less Kingdom" (directed by Mansai Nomura), she is one of the leading female butoh dancers to receive a wide array of offers. She is the choreographer/director of the Gold Powder Show performed at the "KAMIKOANI Project Akita" (in 2013 and 2015) in Kamikoani Village, Akita Prefecture.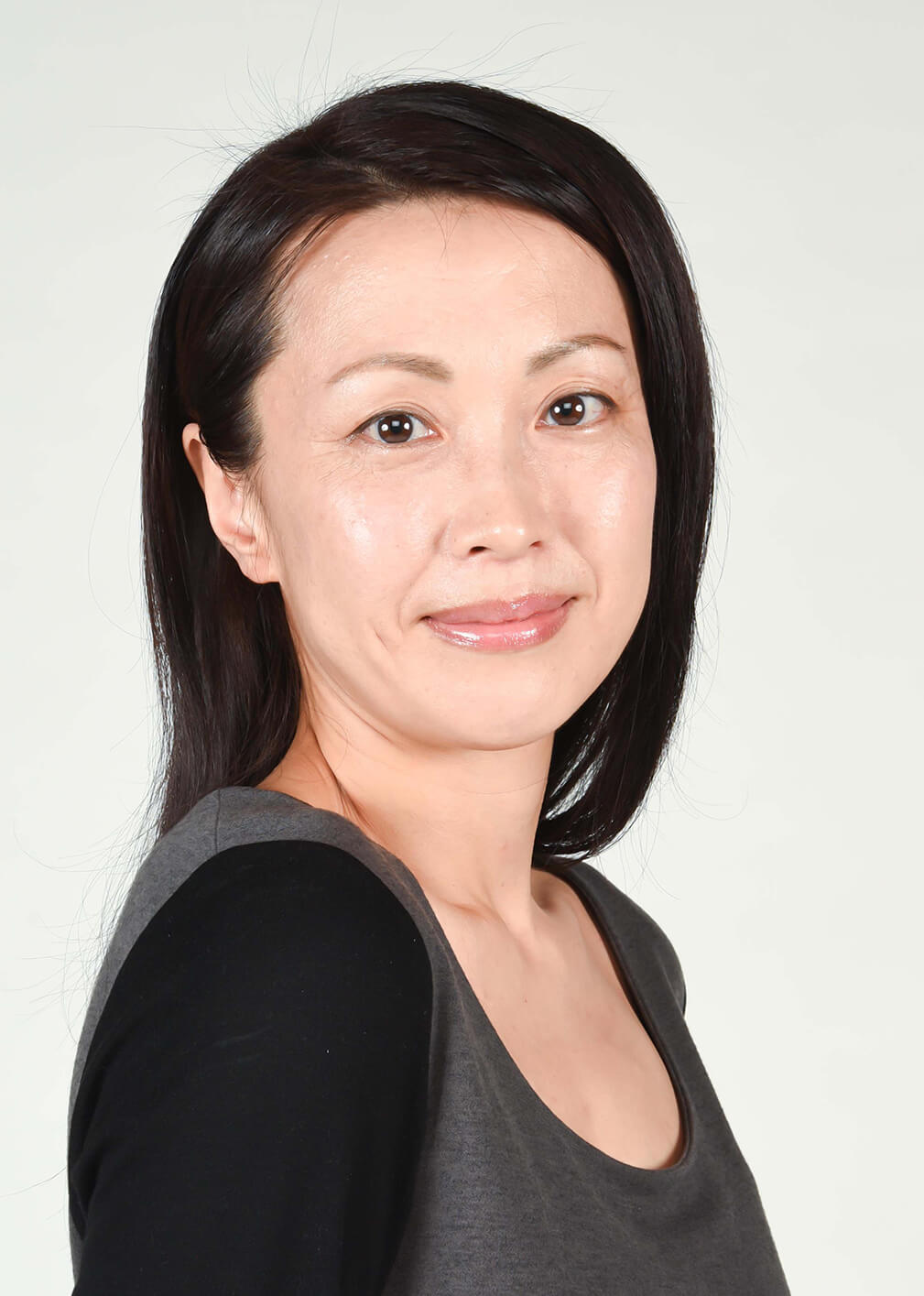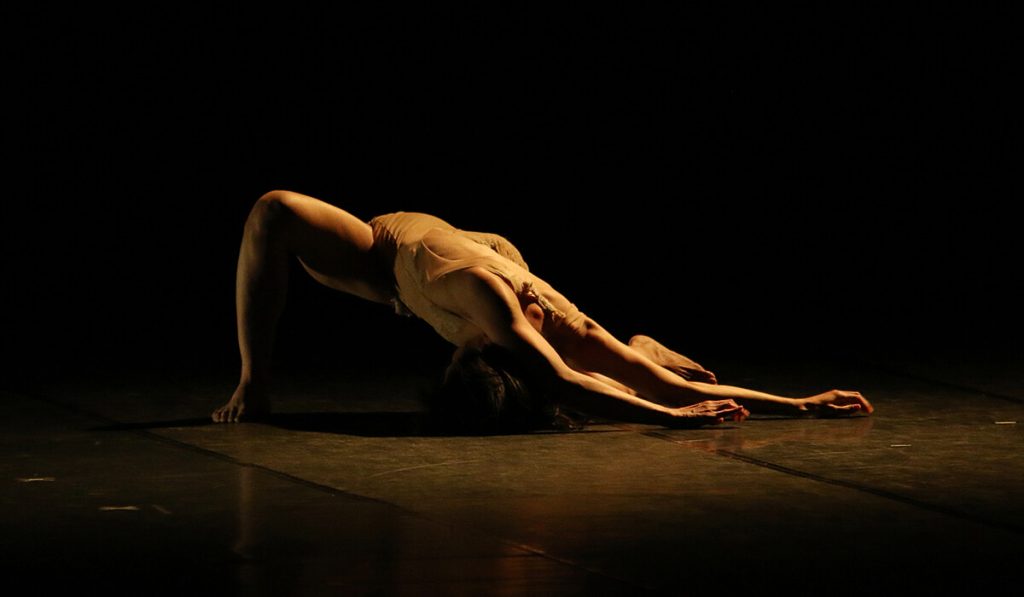 Tatsumi Hijikata Memorial Award Exhibition Performance
Two award-winning choreographers give their new performances. One is Ruri Mito (Japan), who won the honorable "1st Tatsumi Hijikata Memorial Award" for her "creative attitude to keep facing squarely with her own body, without overly relying on her dance skills". The other is Hung-Chung Lai (Taiwan), who won the "Audience Award" by the popular vote by the audience in the venue. Also, three choreographers are invited from Seoul International Choreography Festival and NDA International Festival. Please enjoy their valuable and impressive performances.
*Please note that Kim Seoljin, the winner of the "Judge's Special Award" cannot appear due to the schedule conflict with his performance for Korea National Contemporary Dance Company.
Date of event
6:30 PM, Saturday, October 13, 2018
2:00 PM, Sunday, October 14, 2018
*The doors open 30 minutes before the show starts.
Venue
Akita Nigiwai Koryukan AU Multipurpose Hall
(TEL: 018-853-1133)
Admission
2,500 yen (advance ticket), 3,000 yen (ticket purchased at the door), students below high school are free, preschool child is not allowed to enter
Winner, 1st Tatsumi Hijikata Memorial Award
Ruri Mito (Japan)
Profile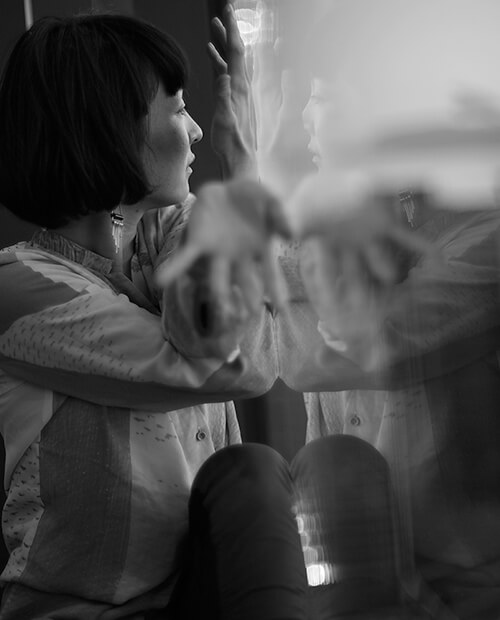 Photo by Saki Matsumura
Professional dancer & choreographer. Once an official member of the Dance Company Leni-Basso from 2004 to 2010, and became an independent freelance afterward. Performed in the works of Wim Vandekeybus and Sasha Walt as the guest dancer for the Swedish Royal Ballet in 2016 & 2018. Joined Sasha Waltz & Guests in 2018. Proactively built up the performing career at home and abroad since 2016 including appearance in "Vessel", the collaborative work by Damien Jalet and Kohei Nawa. The choreographing solo works "ESQUISSE" and "Matou" are highly evaluated abroad and have been invited to many festivals. In recent years, has been doing international exchange such as collaborating with Rita Gobi.
Started group activities as Co.Ruri Mito in 2017.
Has become a junior fellow of the Saison Foundation since 2018.
Stage appearances
The musical "Cat That Lived a Million Lives" by Inbal Pinto and Avshalom Pollak
"Körper" by Sasha Waltz
"PUUR" by Wim Vandekeybus
"VESSEL" by Damien Jalet, Kohei Nawa
"Paradiselogue", "ElephantRose~no land~", "Finks", "Ghostly Round" by Leni-Basso
Collaboration
"Freestyle" Rita Gobi
Awards
2018

M1 CONTACT MASDANZA AWARD

2017

1st Tatsumi Hijikata Memorial Award, "Odoru Akita"

2017

1st Place, SOLO DANCE CONTEST at Gdańsk Dance Festival (Poland)

2016

International Judge Award, Seoul International Choreography Festival (Korea)

2014

1st Place Judge Award, 19MASDANZA Competition (Spain)

2014

MASDANZA Award, Yokohama Dance Collection EX

2013

1st Place, Jerusalem International Choreography Competition (Israel)

Winner, Audience Award
Hung-Chung Lai (Taiwan)
Profile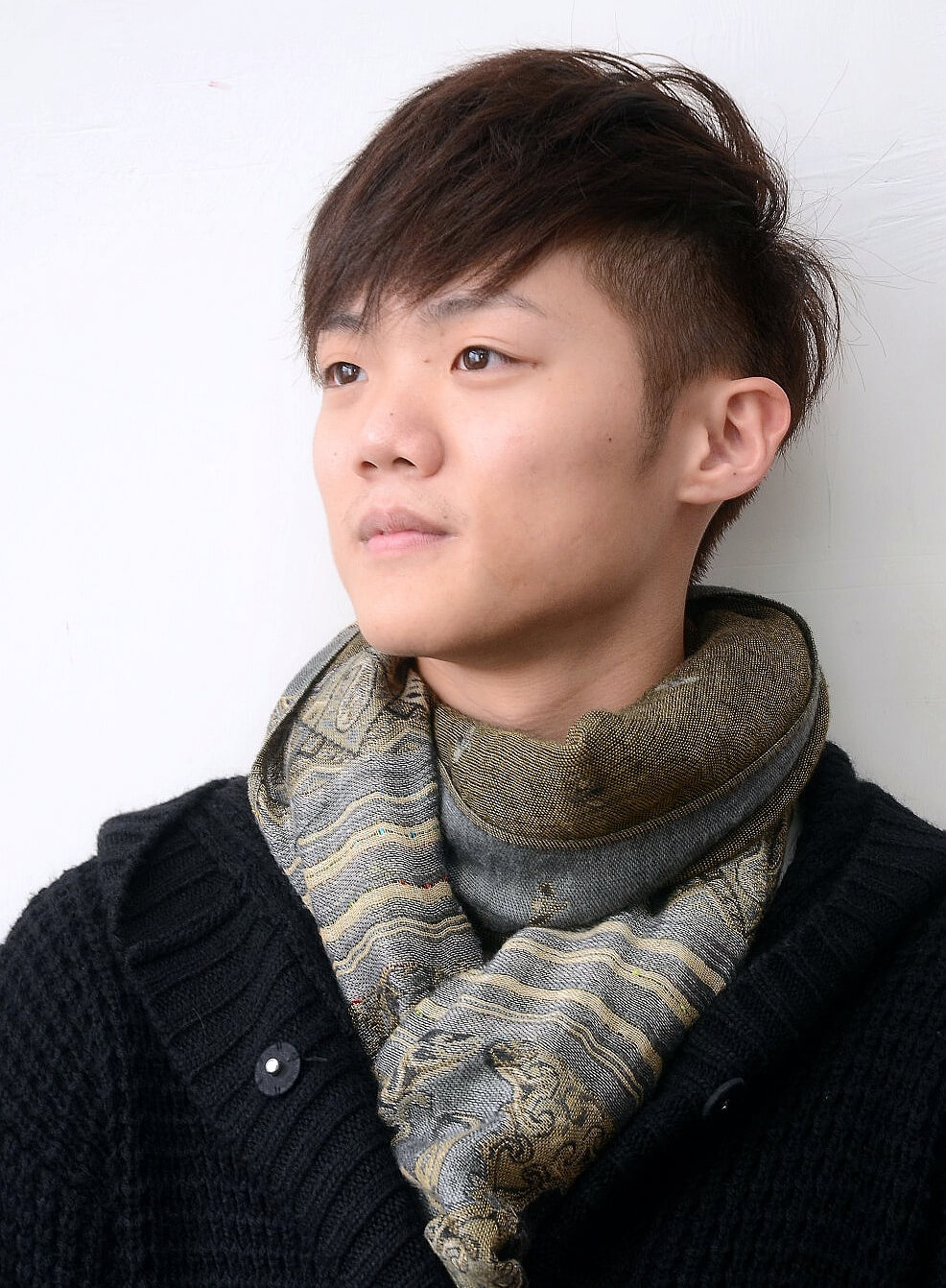 Hung-Chung Lai is a Taiwanese choreographer and as an Artistic Director of Hung Dance. He received his Bachelor of Fine Arts and graduated from Taipei National University of Arts in 2012.
In June 2018, "Birdy" won 3rd prize in "32st International Competition for Choreographers Hannover" and Audience Award Best Choreography in Tanz Plattform Bern. In May, he choreographed "Bony" for Focus Dance Company and performed in 5 city of Taiwan. From April to July His works "Birdy" and "Watcher" were invited to perform in 10 festival of Spain.
In Oct 2017, his work "Birdy" won Audience Award Best Choreography in Masdanza International Dance Festival and won Audience Award Best Choreography in Odoru Akita International Dance Festival. In July, "Birdy" won 1st prize in Burgos & New York International Choreography Contest. In June, his work "Watcher" won 3rd prize and Critics Award in "31st International Competition for Choreographers Hannover".
In 2015-2016, his choreography "Watcher" won the 1st prize, and "Stranger", "Insistence of Beauty" and "Cloud" won special awards by Taiwan Ministry of culture dance competition. In 2016, his work "Cloud" was invited to World Dance Alliance Asia Pacific Korea Dance Festival for a showcase performance. Lai was selected as one of the eight choreographers in the World Dance Alliance Young Choreographer Project to create "Insistence of Beauty". His two other choreography, "Colored" and "Stranger", were both invited to the 2015 WDA-America Conference & Festival held in Honolulu, Hawaii. Additionally, during 2012-2018, as a special guest artist, Hung-Chung choreographed "Gravity", "Distant Light", "Grim Winter", "false", "Light" and "Raining in the room" for Kaohsiung City Ballet.

Asia Festival Exchange

※This program is subsidized by Han Chang-Woo・Tetsu Cultural Foundation.
Jihee Lee (Korea)
(Invited from the Seoul International Choreography Festival, SCF, of Korea)

Title:Shadow Me -Two egos and chaos, we collide and sympathize-
Choreography by Jihee Lee
Performed by Jihee Lee, Yejin Kim
Music by Hidur Gudnadottir- Leyfdu ljosinu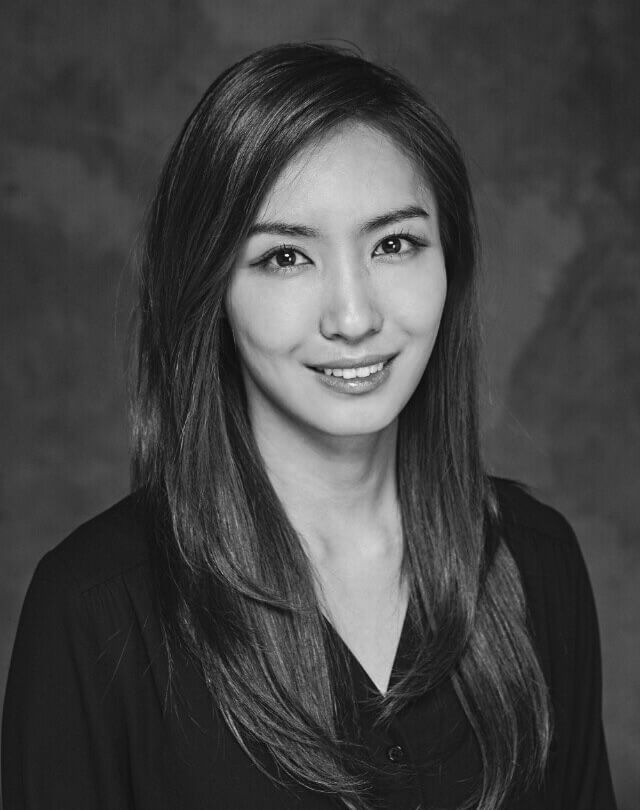 Introduction of Work
here are moments when I discover myself being different from how I pictured, breaking my own beliefs, and denying true-self.
This project is an attempt to portrait my state of mind of conflicting with different-selves as changes of shadows according to the light.
The light means something that influences me.
The shapes/shadows by the light are myself.
Although it keeps changing from how I believe I am, nowhere to run, I am standing right there.
Profile
Representative of Move Pocket Project and Garimda Dance Company. Adjunct professor at Hanyang University.
Received the bachelor's degree and doctorate from Hanyang University. Teaches at Hanyang University, Hanyang University Social Education Institute, Seoul Arts College and Chungbuk Art High School.
Awards
2011: Excellent Choreographer, Young Choreographers' Creations hosted by Korean Dance Association
2015: Choreographed "Dawn", Grand Prix of GDF College Dance Festival
2016: Excellence Award, Chungbuk Dance Awards
2017: Grand Prix, Chungbuk Dance Awards
2017: Excellent Choreography Award, Individual Performance Award, and Silver Prize, National Dance Festival hosted by Korean Dance Association
2017: Artistic Award, Chungbuk Dance Awards
Introduction of Company
Move Pocket Project is a dance company based in Seoul, South Korea. Having deep and careful consideration of movements, the company creates authentic projects by approaching to the themes in depth. The founder and the principle choreographer, Jihee Lee, is well known for producing inventive and phantasmagorical images, and polished styles of movements reflecting subjects of the contemporary society.
Dakyum Lee (Korea)
(Invited from NDA International Festival 2017 of Korea)

Title:Everything must be doubted
Choreography by Dakyum Lee
Performed by Dakyum Lee, Chorom Ham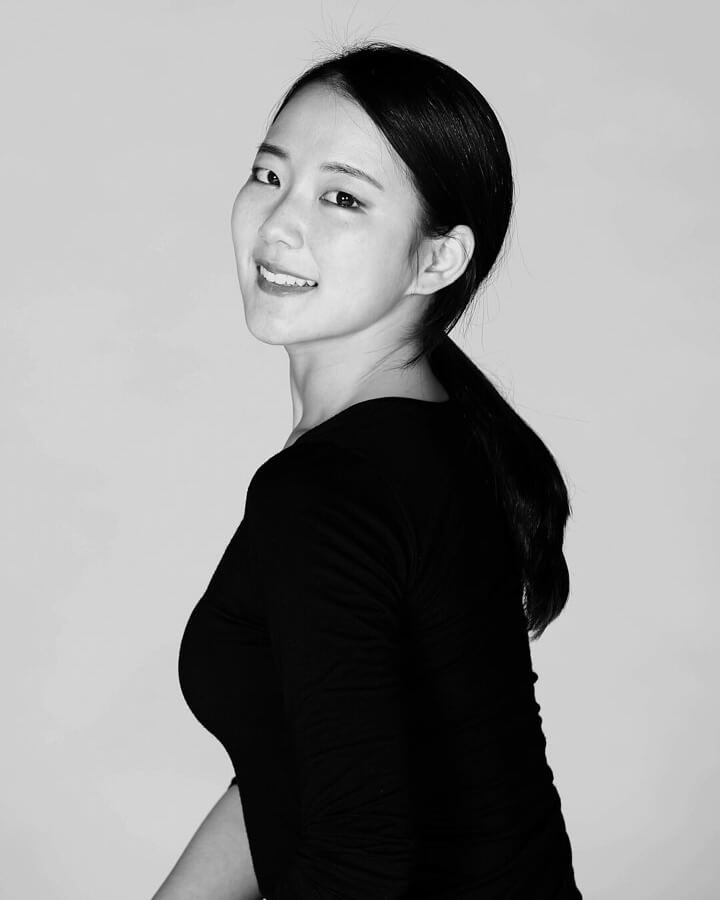 Introduction of Work
I started to create my work based on my conceptual fear that "there is no such thing as a matter of course in this world." In my effort to portray people who do not think/doubt and unconditionally accept to carry on living, I extract keywords against the matters of course that the society demands to our lives to create my work.
Profile
She graduated from Kyunghee University, Department of Dance.
She won the 4th Incheon International Dance Festival with "Are You OK?" and established a firm position as a young choreographer.
Her work "View-tiful" won the New Artist of the Year Award in Festival SP (Daejeon) Dance Culture Forum 2016 and "Everything must be doubted", which was performed in NDA (New Dance For Asia) International Festival, was invited to "Odoru Akita" and International Comic Dance Festival (Korea).
Kyung Gu Lee (Korea)
(Invited from NDA International Festival 2018 of Korea)
Program: A broom stuck in a corner
Choreography and performed by Kyung Gu Lee
Dramaturgie by Kyung Min Ji
Lighting by Takashi SUMIDA
Music "Ah! Moranbong" by Hyang-Rim Park, "You really can't die" by Space bar (arranged by Kyung Min Ji )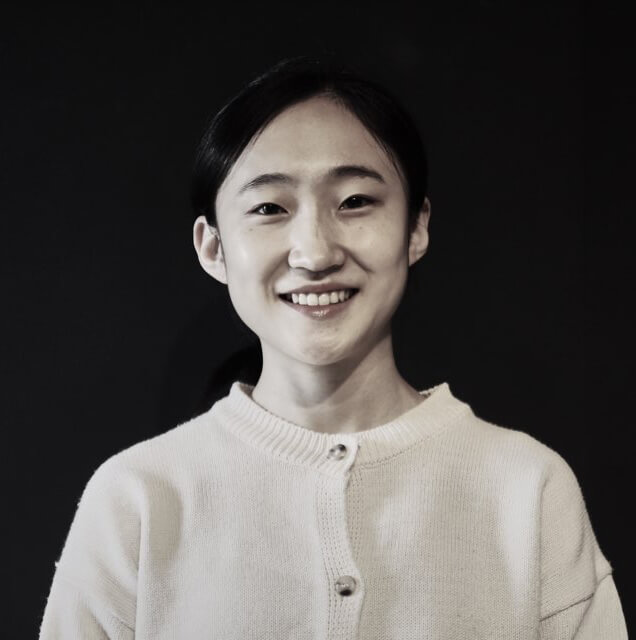 Introduction of Work
I wish I could tell you many words and express my feeling without hesitation. I truly hope that everything I emit goes straight into your heart. However, to you, I am just like the barley bag pushed against the corner. I just had to eagerly work on what I had to do. In rare occasions, astonishingly harsh anger flows out of my body as if it were punctured. Surprised, I shroud my anger in darkness. At the very same time, I honestly wish he could uncover the ephemeral mistake. On days when I feel infuriated by love-less and heart-less you, I have to say what I do not want to say yet cannot say what I want to say. I fell impatient. Under his vision, I try my best to hate through the small things I can do. If I am addicted to such a skimpy act, I feel as if I was taking myself to the unknown world in rare occasions.
Profile
Choreographer/dancer at the Korean dance company of"GOBLIN PARTY" which creates its own contemporary dance works. She is most famous for her leading choreography work, "A broom stuck in a corner", the invitee to the Za Koenji Dance Award and the winner of the Judges' Award at Yokohama Dance Collection, and "Come in, Houston", the winner of the Best Work at Seoul International Duo Dance Festival and the invitee to Korean Cultural Center of Tokyo and SAI International Dance Festival. Prioritizing the communication with the audience, Lee constantly strives to search for the works that can extend the time of the audience.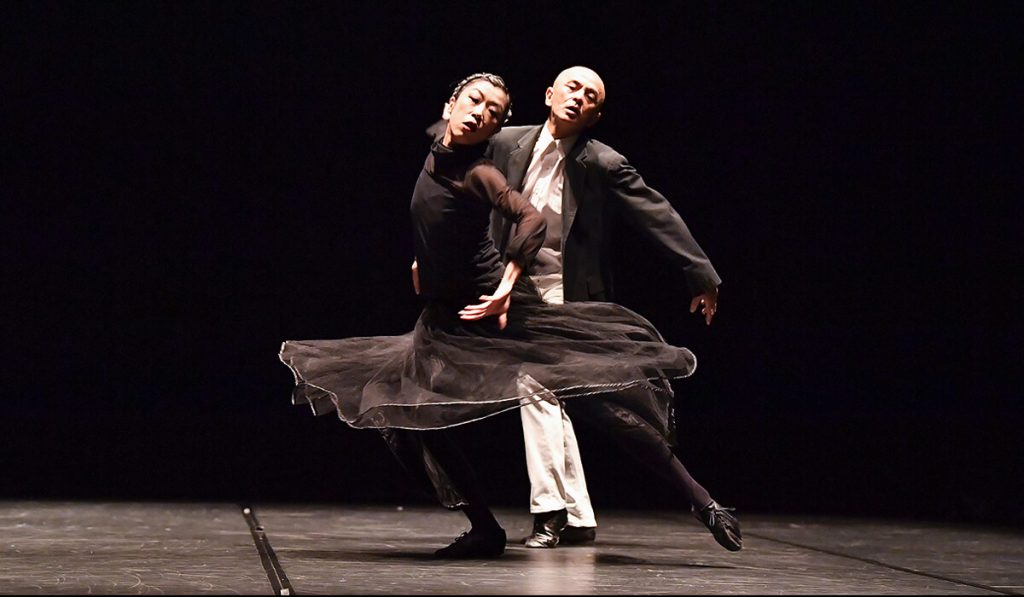 Baku Ishii Memorial Award Winner Performance
Saburo Teshigawara has always been the forefront runner of the Japanese dance scene since 1980s. After thirty some years from the stunning debut, his vigorous passion for creation has never declined, rather, he has been choreographing new works almost every month at his base, KARAS APPARATUS, together with the rapidly developing dancer named Rihoko Sato. All artists living to convey their own messages including dancers should take his creative attitude as the guidepost. The collaborative work "idiot" by Teshigawara, the world-renowned Japanese choreographer/dancer, and Sato perform in Akita after the successful performance in Paris.
*Please be advised beforehand the program may be altered.
Date of event
7:00 PM, Friday, October 26, 2018
*The doors open 30 minutes before the show starts.
Opening hours
開場18:30~ 開演19:00~
本演目は演出の都合上、開演時間を過ぎますと原則客席にご入場いただけません。万が一、開演時間を過ぎてご来場された場合は、擦りガラス付きの母子席でのご観覧となりますことを、予めご了承ください。
Admission
3,500 yen (advance ticket), 4,000 yen (ticket purchased at the door),
students below high school are free.
Performed by
Saburo Teshigawara, Rihoko Sato
Directed/Lightning by
Saburo Teshigawara
Introduction of Work
The dance work of "idiot" is the reincarnation of the Dostoevsky's novel "idiot", and is the confused substance of life illuminated by the lights that shine deep inside of human beings. The calmness depicted there is the trembling live acoustics, or a column of smoke going up above the frozen earth in the winter.
―勅使川原三郎
Profile of Saburo Teshigawara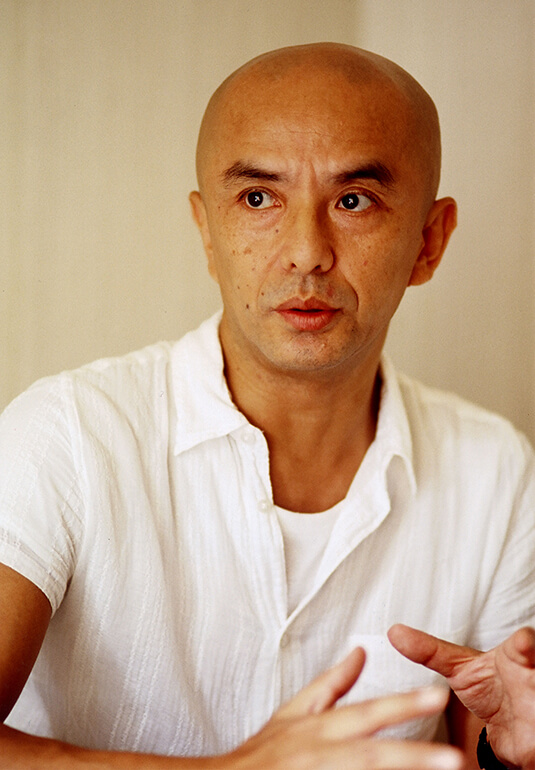 ©︎Norifumi Inagaki
Dancer, choreographer and director.
Teshigawa began his unique creative career in 1981 after studying classic ballet. In 1985, he formed KARAS and started group choreography and their own activities. Since then he and KARAS have been invited to perform in major international cities around the world. In addition to solo performances and his work with KARAS, he is also a choreographer and director. He has also been commissioned by international Ballet companies such as the Paris Opera to create repertoire pieces, including a new work set to Esa-Pekka Salonen's Violin Concerto to premiere this fall at the Paris Opera Ballet. Teshigawara's keenly honed sculptural sensibilities and powerful sense of composition, command of space and his decisive dance movements all fuse to create a unique world that is his alone. Keen interests in music and space have led him to create site-specific works, and collaboration with various types of musicians.
Awards
1986

The second place and a special prize at the Bagnolet International Choreo- graphy Competition for "Le Pointe du Vent" (France)

1988

Japan Dance Critic Award (Japan)

2002

Asahi Performing Arts Award (Japan)

2006

Japan Minister of Culture Art Encouragement Prize (Japan)

2009

Purple Ribbon Prize (Japan)

2017

Baku Ishii Memorial Prize (Japan)

2017

Awarded the French Ordre des Arts et des Lettres Officier (France)
Profile of Rihoko Sato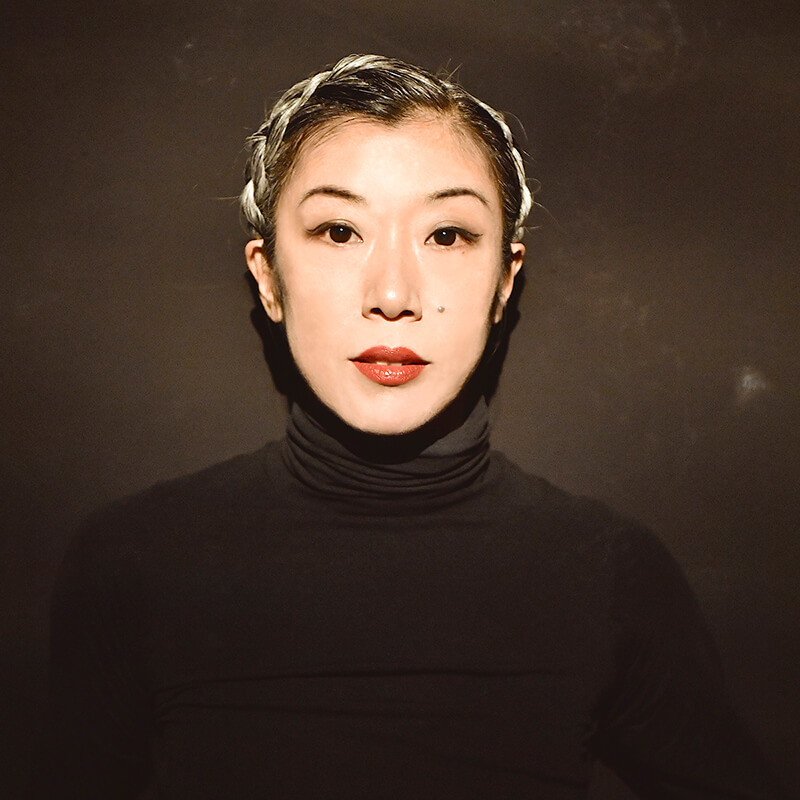 ©︎Akihito Abe
Having participated in KARAS' workshops in 1995, she joined the group in 1996. Since then, Sato has performed in all group works, and also works as the artistic assistant for Saburo Teshigawara in all his creative activities. She is acclaimed internationally, as one of the main figures in Teshigawara's works. Her exceptionally sensitive body and nerves create a wide range of dynamism, from melting fragility to sharp intensity, opening a new dimension for physical expression. Sato has also worked as dance mistress for Teshigawara's commissioned works for other ballet companies. She has received the Best Dancer Award for her duet with Vaclav Kunes in Scream and Whisper at Les Étoiles de Ballet2000 Awards in 2005 in Cannes, France, the Japan Dance Forum Award for 2007, and the Forty edition of the PREMIO POSITANO "LEONIDE MASSINE" Per la Danza 2012.
Awards
2005

The Best Dancer of the Year Award of 2005 of the French and Italian dance magazine "Ballet2000" for "Scream and Whisper" which was performed for the first time in Rome in 2005.

2012

40th Premio Positano Danza Léonide Massine

2017

Baku Ishii Memorial Prize

2018

The Minister of Education, Culture, Sports, Science and Technology's Art Encouragement Prize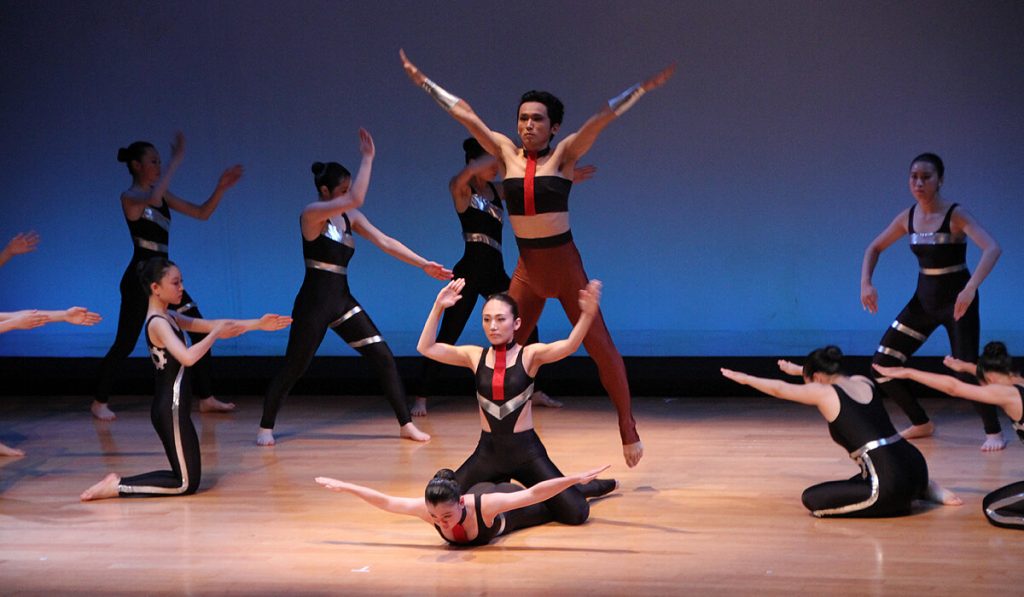 Outreach Performance in Mitanecho
The "Outreach Performance" is held in Mitanecho where Baku Ishii was born. Baku Ishii Memorial Creative Dance Company and Ayuko Tanahashi Ballet School perform and local children also appear on stage. Please enjoy the "Outreach Performance" in the birthplace of Baku Ishii.
Date of event
2:00 PM, Sunday, November 11, 2018
*The doors open 30 minutes before the show starts.
Venue
Yamamoto furusato culture Hall
Performed by
Baku Ishii Memorial Creative Dancers, Ayuko Tanahashi's Ballet School
Profile of Baku Ishii Memorial Creation Dance Company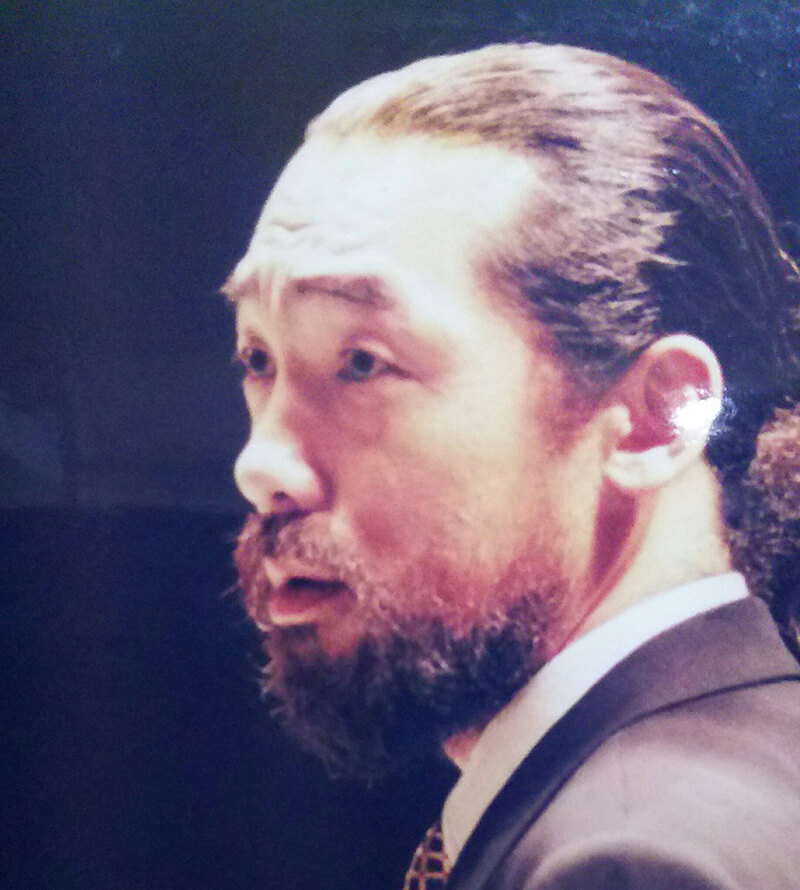 Originally started by Baku Ishii as "Baku Ishii Creative Dance Company", but was renamed as the "Baku Ishii Memorial Creative Dance Company" after Baku's death. It was reorganized by Noboru Ishii in 1994 using Baku Ishii's dance ideology as a base for their performances. They have studied for recreation of Baku's works and endeavored to create new dance. They aim to expand the possibility of dance itself and to develop the sensitivities and the superior human quality in their dancers.
Profile of Ayuko Tanahashi Ballet School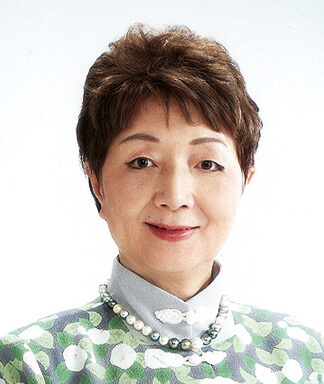 Since the opening of the studio in 1958, they have received many awards including the second place in the modern dance category of the national dance competition. In 2005 they received an award of excellence in the Modern Dance Festival.
They performed in the Wakasugi National Athletic Meet, the National Tree-planting Festival held in Akita, the Nenrinpic Games, and National Cultural Festivals held in five prefectures. In the Akita National Cultural Festival held in 2014, they led a modern dance festival with the theme being Baku Ishii.